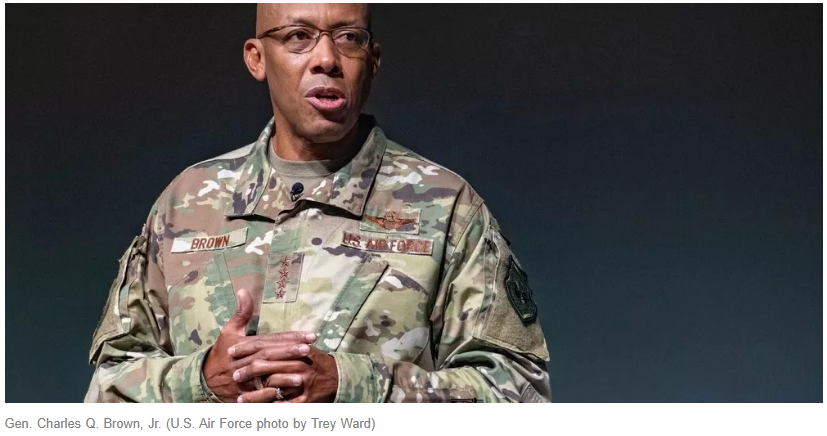 The Chinese Communist Party's (CCP) military, known as the People's Liberation Army (PLA), is directing an exploitation campaign at current and former United States troops in an effort to "fill gaps" in China's military capabilities, according to a top U.S. military general.
Gen. Charles Q. Brown Jr. issued the warning in a message obtained by The Washington Post that was distributed to Air Force personnel on Friday.
Brown warned foreign companies working with the CCP are "targeting and recruiting U.S. and NATO-trained military talent across specialties and career fields."
"By essentially training the trainer, many of those who accept contracts with these foreign companies are eroding our national security, putting the very safety of their fellow servicemembers and the country at risk," Brown wrote before encouraging troops to protect "our national defense information."
Officials said they have detected an alarming rise in China targeting U.S. troops and veterans, but declined to reveal how many have been exploited.
The revelations come after President Joe Biden referred to China as a "ticking time bomb," cautioning, "when bad folks have problems, they do bad things" in a candid and somewhat foreboding declaration.
While the President's intentions behind the remarks weren't fully elaborated on, the rising tension between the U.S. and China have been palpable, particularly concerning Taiwan's independence.
The primary concern has been that Chinese President Xi Jinping might eventually decide to assert control over Taiwan, merging it with the Communist-ruled mainland. Jinping has frequently underscored a commitment to such a unification.
Biden's critics, especially among Republicans, often rebuke the president for not adopting a more assertive stance toward China on pressing issues like the fentanyl crisis. The China-sourced chemical has resulted in an alarming number of overdose deaths in the U.S. over recent years.
Original Article: https://americanmilitarynews.com/2023/09/chinas-military-targeting-us-troops-veterans-top-air-force-general-warns-report/