With a tongue sharper than her brother, she has demonstrated a predilection for making known her contempt for the US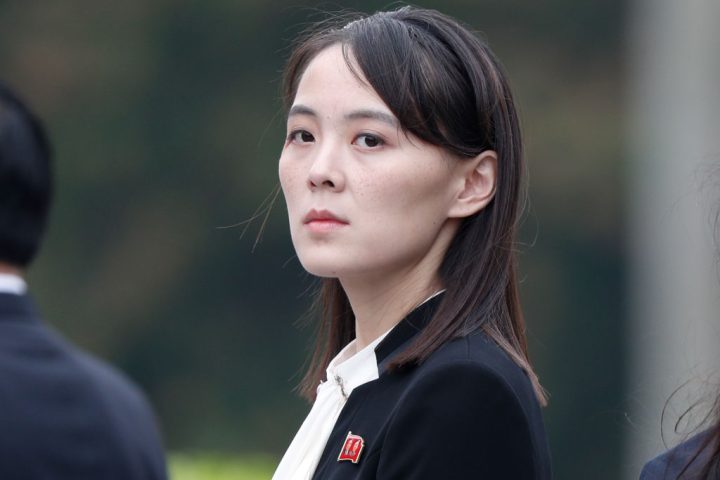 If at first you don't succeed, try, try again. Such is the axiom underpinning North Korea's (DPRK) approach towards its nuclear and missile development. The hermit kingdom's acceleration in its nuclear and missile capabilities demonstrates how Kim Jong-un is working down his wish list of expanding his country's conventional and unconventional weapons, which he declared in January 2021. Since then, the world has witnessed launches of solid-fuel intercontinental ballistic missiles (ICBMs), combat drones and, most recently, military reconnaissance satellites.
Last Wednesday's launch of a Chollima-1 rocket was nothing to celebrate. It failed to ignite before hurtling into the Yellow Sea, which separates the Korean Peninsula from mainland China. For North Korea, so-called satellite launches have been poorly-disguised euphemisms for testing nuclear technology. This rocket aimed to launch a satellite into space. It likely comprised an engine similar to a previous ICBM, the Hwasong-15, further representing the DPRK's voracious desire to modernise and expand its weapons arsenal.
Who would take over the reins of this badly-behaved nuclear state were the corpulent Supreme Leader incapacitated?
More notable than the unsuccessful launch, however, was North Korea's reaction. Though the regime has previously been more willing to mask technological failures, it now seems to admit that its launches can fail, albeit begrudgingly. But for a regime whose rule has been premised on dishonesty, North Korea's candidness is anything but admirable. Rather, it emphasizes a worrying reality, namely that it now takes its nuclear weapons for granted.
It was, however, not Kim Jong-un who responded to this failure. Instead, it was Kim Yo-jong, his infamous younger sister, whose penchant for vitriolic rhetoric is becoming more well-known. Partially educated in Switzerland, like her brothers, she has risen through the ranks of North Korea's elite to her current roles as a member of the State Affairs Commission, the highest-ranked body of policy leadership, and as deputy director of the publicity and information department.
Also known as the "propaganda and agitation" department, it is here that Kim Yo-jong has become the puppeteer behind the creation and nationwide promulgation of North Korea's propaganda. Over the past year, it has experienced a noticeable resurgence. At the end of last year, posters and artwork denouncing the United States reappeared in Pyongyang. North Korean state television also broadcast anti-US rallies threatening to "beat [the US] to a pulp" and "rip them apart to death." Any signals, even if superficial, of rapprochement with the United States or South Korea, as was witnessed between Kim Jong-un and Donald Trump, have since evaporated
That Kim Yo-jong was the likely agitator behind these words is no surprise. With a tongue arguably even sharper than her brother, she has demonstrated a predilection for making known her contempt for the United States and its allies
After last week's rocket crashed into the Yellow Sea, Ms. Kim was quick to react. In a proliferation of statements, she scathingly retorted how the DPRK did "not feel the necessity of dialogue with the US and its stooges." Instead, it would continue pursuing "a more offensive attitude" towards its enemies.
Staying true to North Korea's past rhetoric, Kim lambasted a recent meeting of the United Nations Security Council that attempted to condemn Pyongyang's latest foray. She dismissed the organization as a "political appendage" of the United States, violating the North's "right to satellite launching." Stymied by the veto power wielded by Russia and China, however, the Security Council remains impotent, unable agree on statements of condemnation let alone impose further sanctions on North Korea. Such discord is in no small part a product of Russia's war with Ukraine.
As we approach the five-year anniversary of Donald Trump's infamous meeting with Kim Jong-un in Singapore — which Kim Yo-jong herself attended — North Korea is not even pretending to show willingness to talk to its adversaries. Irrespective of Trump's recent felicitation to Kim Jong-un following the North's admission to the World Health Organization's Executive Board, the DPRK's economic forecast looks bleak.
In a moment of déjà vu from 2021, however, speculation of Kim Jong-un's health is resurfacing. Although these rumors should be taken with a large soup-spoonful of salt, Kim is hardly in fine fettle. Who would take over the reins of this badly-behaved nuclear state were the corpulent Supreme Leader incapacitated?
Longer-term, the question remains as to whether his daughter, Kim Ju-ae — who, for now, remains too young to lead — will succeed him. Is Ju-ae's aunt the best alternative?
Though historically a patriarchal society, Kim Yo-jong brings benefits to the regime. Young, caustic, and loyal to her brother, she represents a continuation of his policies. She has allegedly become a useful bridge between the party (the Workers' Party of Korea) and military, the Korean People's Army. Most importantly, however, she is a Kim. The Baekdu bloodline of hereditary succession, treasured by the ruling regime since North Korea became a state in 1948, will be maintained.
During the past week, Kim Yo-jong has promised much. While she will not be proclaimed leader any time soon, we should not be surprised if a second satellite launch turns out to be successful. In the meantime, Ms. Kim will keep sharpening her tongue; any barrage of future missile launches will no doubt be accompanied with a bombardment of bombastic bile.
Original Article: https://thespectator.com/topic/kim-yo-jong-north-korea-propaganda-princess/